Masi Maham
Venue :
Chennai
Date :
March 06, 2023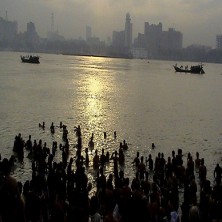 The full moon day of the Tamil month of Masi in Magha Nakshtra is considered auspicious. It is believed that during this period,divine beings descend to purify the karma of the human race. As Magha is ruled by ancestors, benefits from blessings of departed souls is expected on this day.It is an important festival celebrated by Tamils The makam star in this month usually falls on the full moon day and is considered highly auspicious in many temples across South India, especially in Tamil Nadu, Pondicherry and Kerala.
One of the important rituals on this day is the procession of idols to the seashore or ponds for a holy bath. Long processions from different temples arrive at the sea shore with the idols of Lord Vishnu, Lord Shiva. Idols from Shakti temples are also brought to the seashore. Pujas and other rituals are held at the sea shore and thousands of devotees throng the sea shore on this day to offer prayer.
The most popular legend associated with this festival is related to Lord Shiva. It is believed that Lord Shiva appeared as a child before King Vallala of Tiruvannamalai who was an ardent devotee. The king had no child and Lord Shiva promised to perform his last rituals. The king died on a Masi Magam day and it is said that the Lord performed his last rites. Lord Shiva also blessed the king by saying that whoever bathes in the sea during Masi Magam will merge with him and will attain 'mukthi.' It is believed that every year the Lord visits the sea to perform the last rites of the king.
Once in twelve years the Masi Magam attains even more significance when the Maha Maham is held. Apart from the full moon, during the Maha Maham there is the movement of Jupiter into Leo (simha rasi) Maha Maham is of great importance at the Adi Kumbeswaran temple in Kumbakonam. There is sacred teertham (tank) called Maha Maham here.
PARTICIPATE IN THE MANGALAGOWRI HOMAM