JANMASHTAMI
Venue :
Chennai
Date :
August 19, 2022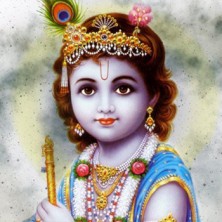 Maha Vishnu took various avatars to protect the mortal world from evil and sin. One such incarnation was his birth as the child of King Vasudeva and Queen Devaki Devi. Gokul Ashtami is the birthday of Lord Krishna. It falls on the 8th day of the dark half of the month of 'Bhadrapada' (August-September) and is one of the most popular of all Hindu festivals. Lord Krishna was born at midnight.A twenty-four hour fast is observed on this day, which is broken at midnight. The festival is known by different names as "Krishna Jayanti", "Janma Ashtami", "Krishnaashtami" , "Gokul Ashtami", and "Sri Jayanti".
Krishna Jayanti marks the celebration of the birth of Bhagavan Sri Krishna. Lord Sri Krishna was born on the 'Rohini' nakshatra on Ashtami day. The festival Sri Krishna Jayanti is also known as Gokulashtami and Janmashtami. The actual day of celebration can be on two different days as the star 'Rohini' and Ashtami may not be on the same day. This occurs between August and September in the Christian calendar.
Traditionally Janmashtami is observed on the day when the ashtami tithi occurs at midnight. If the ashtami tithi and Rohini nakshatra occur on the same day, then the observance is considered to be doubly sacred; otherwise the observance is held on the day on which the ashtami prevails at midnight. The vrata mainly consists of fasting, spending the whole night in the worship of Krishna, reciting hymns of praise and Krishna's pastimes, reciting prayers from the Bhagavata, offering arghya to Krishna, and the parana or the ceremonial breaking of the fast. The next day is celebrated as Krishna Jayanti.
Celebrations are held on a grand scale in all Krishna temples, especially the ones in Vrindavan, Mathura (Uttar Pradesh), Dvaraka (Gujarat), and other regionally famous temples.
The life and message of Sri Krishna is the most stirring saga of one of the greatest saviours and propounders of Dharma. Sri Krishna's life is replete with many mortal dangers which he successfully triumphs over. Sri Krishna Jayanti signifies not merely the birth of a great and Divine Teacher of mankind in some distant past but the lighting of the spark of the Divine Power in every one of us, which spurs us on to play our dynamic part in this world of practical and hard realities with a sense of high spiritual purpose.
This year we will perform the Guru Preethi Homam along with the Sudharshana Homam.
PARTICIPATE IN THE MAHASUDHARSHANA HOMAM ON JANMASHTAMI