Varalakshmi Vratham
Venue :
Chennai
Date :
August 12, 2022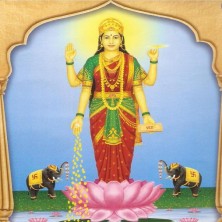 Varalakshmi Vratha is celebrated on the Friday before the full moon in the Tamil Month 'Aadi' which corresponds to the English months of July-August. It is a festival to propitiate the goddess Lakshmi. Varalakshmi means the one who grants boons (Varam).
Lakshmi, Lord Vishnu's consort, is symbolical of Shakthi. Eight such energies are recognised - Sri (Wealth), Bhu (Earth), Sarasvati (Learning), Priti (Love), Kirti (Fame), Shanti (Peace), Tushti (Pleasure) and Pushti (Strength). All the eight forces are called Ashta Lakshmi or eight Lakshmis.
As health, wealth and prosperity depend upon the rythmic play of these forces, the worship of Lakshmi is said to obtain all three. Hence this festival is observed, invoking the blessings of Lakshmi.
PARTICIPATE IN THE MAHALAKSHMI HOMAM