Vaikasi Visakham
Venue :
Chennai
Date :
June 12, 2022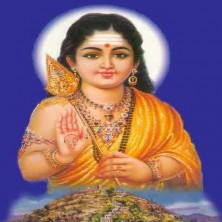 The hallowed full moon day in the month of Vaikāsi, under the Visākam star is the Vaikāsi Pournima.Vaikasi Visagam, or Vaigasi Visakam, is the day when Lord Muruga or Kartikeya, incarnated on earth. Muruga, the general of the army of devas, is also known as Skanda, Kanda, Subrahmanya and Kartik.
It is well known that the asterism Visākam is considered to be the birth star of Murugan who is called Visākan. The Visāka asterism is a combination of three stars which shine brightly in the sky and its pattern in the sky resembles the torana or entrance. It is the fourteenth asterism in the month of Vaikāsi when the sun's vernal equinox falls which accounts for the hot days during this month.
Vaikāsi Visākam is important to the Saivites, Vaishnavites and the Buddhists. To the Saivites, it is the day of the descent of Murugan; to the Vaishnavites it is Periyalvar's jayanti and to the Buddhists it is the day of the great miracles of nativity, enlightenment and maha samadhi of Buddha.
The birthday of Lord Muruga falls on the Vishakam star in the Tamil month of Vaikasi (May – June). The day is celebrated in temples dedicated to Muruga in India, Malaysia, Singapore, Sri Lanka and South Africa.
The descent of Murugan is referred to as the Shanmuga avatāram. This descent was in answer to a prayer by the devas to rid the world of adharma caused by the three asura brothers, Soorapadman, Singamuhan and Tārakan. These brothers had obtained great powers through intense penance and were harassing the devas. The devas appealed to Siva for help. Tradition has it that Siva added a sixth face to the existing five faces.In the Lake the sparks became six Divine children and were nursed by six Kārtika maidens. These children were embraced by the Divine Mother and became One with six faces and twelve hands. And thus descended Shanmugan, the incarnation of pure consciousness and divine knowledge on the pournima (paruvam) in the month of Vaikāsi.
Murugan appeared for a special purpose to eradicate the adharma caused by the asuras and the ensuing battle with the asuras is the story of the Skanda shashti fast. The manifestation of Shanmugan is the everlasting testament of victory, of Truth over falsehood, of Dharma over adharma.
Vaikāsi Pournima is also Periyalvar's jayanti. He was an Alvar saint - a Vaishnava mystic who sang of God Sri Krishna as his child and he the mother, Yasodha.