Ugadi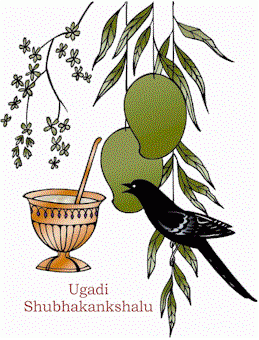 Ugadi or Yugadi is from yuga + aadi, yuga meaning era and aadi meaning start and means the start of an era. It is the New Year's Day for the people of the Deccan region of India. It falls on a different day every year because the Hindu calendar is a lunisolar calendar. The Saka calendar begins with the month of Chaitra (March–April) and Ugadi marks the first day of the new year. Chaitra is the first month in Panchanga which is the Indian calendar.
The word Yugadi can be explained as; 'Yuga' is the word for 'epoch' or 'era', and 'aadi' stands for 'the beginning'.Yugadi specifically refers to the start of the age we are living in now, Kali Yuga. Kali Yuga started the moment when Lord Krishna left the world. Kali Yuga began on Feb 17/18 midnight 3102 BC.
The festival marks the new year day for people between Vindhyas and Kaveri river who follow the South Indian lunar calendar, pervasively adhered to in the states of Andhra Pradesh, Karnataka, Maharashtra and Goa.Yugadi falls on "Chaitra Shudhdha Paadyami" or the first day of the bright half of the Indian month of Chaitra. This generally falls in the months of March or April of the Gregorian calendar.
The Kannada, Telugu and the Konkani diaspora in Karnataka and Kerala,people celebrate the festival with great fanfare; gatherings of the extended family and a sumptuous feast. The day, however, begins with ritual showers (oil bath) followed by prayers, and then the eating of a specific mixture of six tastes called Ugadi Pachhadi in Telugu and Bevu-Bella in Kannada, symbolizes the fact that life is a mixture of different experiences (sadness, happiness, anger, fear, disgust, surprise) , which should be accepted together and with equanimity.Later, people traditionally gather to listen to the recitation of the religious Panchangam (almanac) of the new year, and the general forecast of the year to come. This is called the 'Panchanga Sravanam', an informal social function where an elderly and respected person refers to the new almanac and makes a general benediction to all present.
Read about Gudi Padva