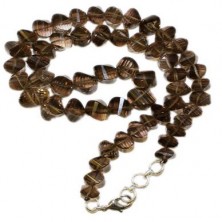 Faceted Smoky Quartz Beads Necklace
Smokey Quartz is the stone of cooperation, and helps to set aside headstrong behavior. It
has the ability to transform negative energy, and is particularly effective in dealing with
anger and resentments. It is a stone that helps you focus on the present moment. It clears
up communication difficulties. It is said to be excellent for alleviating panic attacks,
anxiety, and nightmares.
It evokes effort and helps us to cope with hard times. It is a gentle grounding stone that
instills balance and harmony. Wearing the Smokey Quartz Mala aids healing in the areas
of back problems, dissolves cramps, alleviates pain and fortifies the nerves.
Beautifull faceted beads are used to prepare this mala.

No of Beads: 54

Length: 16 inches

Bead size: 11mm x 10mm

Product Price: RS: 4,050
NOTE:
RUDRAKSHA PRICES AND AVAILABILITY ARE SUBJECT TO FLUCTUATIONS. WE WILL LET YOU KNOW IF THERE ARE ANY CHANGES IN PRICE AS SOON AS WE RECEIVE YOUR ORDER.