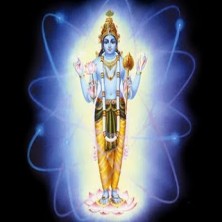 Vishnu Gayatri Homam
Date :
March 25 , 2018
The Vishnu Gayatri homam is performed for success, welfare, status, peace and prosperity. It develops sustaining power.

Vishnu is one of the three main gods of the Hindu trimurti (three forms). The trimurti is often depicted in art as one man with three heads. Brahma is the Creator. Vishnu is the Preserver. Shiva is the Destroyer.The name Vishnu comes from the Sanskrit root 'vish', meaning to pervade. Some Hindu legends describe Vishnu as an eternal deity, and associate him with the primeval waters that pervaded the world before creation. Another name for Vishnu is Narayana, meaning 'one who moves waters'.To understand Vishnu's role as Preserver, one must accept two basic Hindu beliefs. The first is that humans may escape the cycle of samsara by following predetermined paths of duty. The second is that good and evil are in constant contention for their reign over the world.It is believed that whenever evil outweighs good with an opportunity to emerge victorious, Vishnu descends to earth in some mortal form to save humanity.