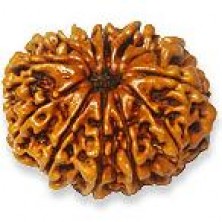 Thirteen Mukhi (Nepal)
13 mukhi Rudraksha is the form of the king Indra. Lord Indra becomes happy, if it is worn. It gives riches. If a man wears, he is upgraded, his honour increases. It fulfills all the earthly desires and gives eight accomplishments (Siddhies), and the god cupid (Kamdeva) pleases with the man who wears it. "Kartikeya samo gyeye sarva Kaamarth Sidhidah." This Rudraksha provides all attainments connected with chemical science. The researchers of medical science reach new horizons of success by wearing this thirteen face Rudraksha.13 mukhi Rudraksha is ruled by Lord Indra and Lord Kamadeva. Fulfills wordly desires of the wearer. Gives hypnotic power of attraction (Vashikaran) to the wearer and blesses him with divine charisma and immense power. Also used to awaken many Siddhies and raise Kundalini energy.
Symbol of: Lord Kamadeva
Recommended for: Attraction, Abundance, eight accomplishments (Siddhies)
Mantra
Om Hreem Namah

Avg.Size : 25-30mm
NOTE:
RUDRAKSHA PRICES AND AVAILABILITY ARE SUBJECT TO FLUCTUATIONS. WE WILL LET YOU KNOW IF THERE ARE ANY CHANGES IN PRICE AS SOON AS WE RECEIVE YOUR ORDER.