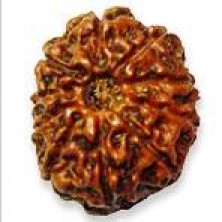 Ten Mukhi (Java)
Ten mukhi rudraksha is ruled by Lord Mahavishnu, Yama (God of death), Dus Mahavidyas and the ten directions. One who sees it or wears it gets eternal peace. This rudraksha works like a shield on one's body and the wearer gets immense protection from negative energies. Gives success in court cases, land deals and relieves wearer from debts and losses. This rudraksha is mentioned in ancient texts as one of the most powerful rudraksha which pacifies all the nine planets.

Lord Vishnu, major god of Hinduism and Indian mythology, popularly regarded as the preserver of the universe. Some Puranic literature refers to him as the eternal, all-pervading spirit and associates him with the primeval waters believed to have been omnipresent before the creation of the world. So regarded, Vishnu is depicted frequently in human form, sleeping on the great serpent Shesha and floating on the waters. One hand holds a lotus; a second holds a conch; a third holds a discus (which always returns by itself after being thrown); and the fourth carries a mace. The petals of the lotus are believed to symbolize the unfolding of creation; the conch is said to symbolize that from which all existence originates; and the discus and the mace reputedly were obtained by Lord Vishnu as rewards for defeating the God Indra.
Symbol of: Lord Vishnu
Ruling Planet: No ruling planet
Recommended for: Pacifying nine planets.
Mantras
Shree Narayanaaye Namah
Shree Vishnavai Namah
Om Hreem Namah Namah
Avg. Size: 12-15mm
Origin:Indonesia
NOTE:
RUDRAKSHA PRICES AND AVAILABILITY ARE SUBJECT TO FLUCTUATIONS. WE WILL LET YOU KNOW IF THERE ARE ANY CHANGES IN PRICE AS SOON AS WE RECEIVE YOUR ORDER.