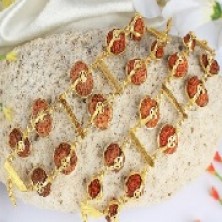 Supreme Sarva siddha - J
Significance:
For the successful achievers and ambitious people who want to reach the top level.
This has Rudraksha beads representing all planets and representing all Devi and Devatas.
This is a powerful combination that balances all the 7 chakras and pacifies all planets.
This is a powerful healing combination that heals you of stress, fears, lethargy, low self worth, grief, discontentment and negativity.
Purpose: This is a very powerful healing combination. Worn for Dharma, Artha, Kama, Moksha. The synergistic combination of all mukhis worn on body provides wearer with abundance in wealth, new opportunities, career growth, renewed energy, good health, spirituality and fulfillment of desires. Wearing of this combination takes the wearer beyond his birth chart limitations and pacifies all the malefic associated with the planets.
Therapeutic benefits: Provides relief in body pains, digestive disorders, sinus, headaches, diabetes, heart problems, throat problems, Insomnia, dizziness and boosts aura and energy levels.
Configuration: Made of 2 mukhi - 18 mukhi and Gaurishankar , this powerful combination is designed according to Rudraksha Science Therapy. Made to wear on wrist or Upper arm. This set of 2 bracelets gives you the powerful Sarva siddha combination that balances all chakras and pacifies malefic of all planets.
Origin: Java
Bead size: 7mm - 15mm