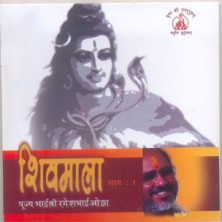 Shivmala - 2 volume set - by Rameshbhai Oza
This is a very handsome package of two CDs comprising of 17 renditions of numerous prayers and Aarti (in Sanskrit) as a prayer offering to Lord Shiva. Excellent music makes this a collector's item.
Volume: 1 Shiv mahimna stotra, Shiv panchakshar stotra, Bilvashtakam, Shiv manas puja, lingashtakam, dvadash jyotirlinga, aarti, mantra pushpanjali.
Volume: 2 Shiv tandav stotra, Shivashtakam, Natraj stuti, Rudrashtak, Vedsaar, Nirvanashtak, Shivoham shivoham, Kshamapana, Jaye shambho-dhun.
NOTE:
RUDRAKSHA PRICES AND AVAILABILITY ARE SUBJECT TO FLUCTUATIONS. WE WILL LET YOU KNOW IF THERE ARE ANY CHANGES IN PRICE AS SOON AS WE RECEIVE YOUR ORDER.