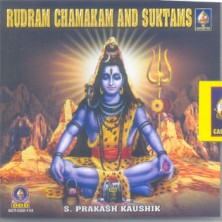 Rudram Chamakam and Suktams CD
The CD contains mantra to be chanted during Rudra Abhisheka.
Contains:
Laghunyasam
Rudram
Chamakam
Purusha Suktam
Narayana Suktam
Sri Suktam
Durga Suktam
Bhagya Suktam
Agni Suktam
Mantra Pushpam.

NOTE:

RUDRAKSHA PRICES AND AVAILABILITY ARE SUBJECT TO FLUCTUATIONS. WE WILL LET YOU KNOW IF THERE ARE ANY CHANGES IN PRICE AS SOON AS WE RECEIVE YOUR ORDER.