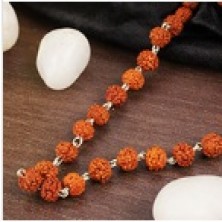 Rudraksha punchmukhi mala in silver wire
Mala of small sized five mukhi beads strung in pure silver wire and no caps. Light weight design for regular wearing.
Five mukhi rudraksha is ruled by planet of lessons- Jupiter. Gives wisdom, learning and knowledge. This is popular among devotees of Lord Shiva and commonly worn for health, worship and peace of mind.
Origin: Java
No. of beads: 108+1