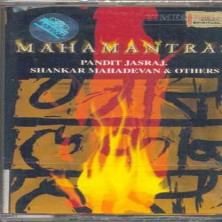 Mahamantras - CD
Singers: Pandit Jasraj, Shankar Mahadevan & Others
Contains following Mantras:Gayatri, Shri Shiv, Mangal Kaama, Ganesh Dhyan, Shri Krishna, Pradnya Vardan, Vaastu, Beej, Shri Ganesh, Kanakdhara, Shubh Laabh, Rognashan, Prakirna & Shanti.
Mahamantras: Ganesh, Mahalakshmi, Mrityunjay & Hanuman.
NOTE:
RUDRAKSHA PRICES AND AVAILABILITY ARE SUBJECT TO FLUCTUATIONS. WE WILL LET YOU KNOW IF THERE ARE ANY CHANGES IN PRICE AS SOON AS WE RECEIVE YOUR ORDER.