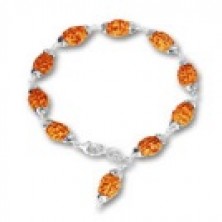 Mahajwala Bracelet - Java with designer Silver caps
For: Dissolving past birth karma. For good health and freedom from stress.
Three mukhi Rudraksha represents "Fire" God Agnidev and planet Sun . Wearing of this Rudraksha frees the person from bondages of his Past birth karma. Wearer is protected from diseases, obstacles and failures. Removal of past birth karma allows the wearer to get all the success he wants in this birth by his karma. It is said that the wearer of 3 mukhi never takes birth again, means he gets Moksha.
Therapeutic benefits: Relieves stress. Gives relief in case of acidity, liver and digestive disorders.
Bead size: 10mm
No. of beads: 10
Length: 7 inches
Weight of silver: Approx 8 gms
Ruling deity: Agni
Ruling planet: Sun
Mantras:
Beej Mantra: Om Kleem Namah
Planet Mantra: Om Hreem Suryay Namah
Deity Mantra: Om Agni Devaya Namaha