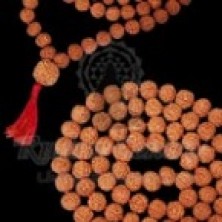 Guru Mala
For those going through Guru (Jupiter) dasha. Five mukhi represents Rudra Kalagni. Jabalopanishad states it as form of Lord Brahma also. This highly auspicious rudraksha is important for people who wish to discover their higher selves meaning UpaGuru. This it is extensively used in malas for wearing and chanting mantras. Effects all major chakras and give health and peace. Removes malefics of planet Jupiter.
Description- Rare mala of uniform 5 mukhi Java beads and nepal bead as sumeru.
Five Mukhi Rudraksha monitors blood pressure and cardiac ailments. Recommended for enhancing health, vitality and immunity.