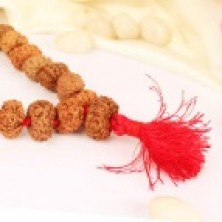 Ekadash Rudra mala - 15 to 17mm
Purpose: Makes wearer bold, expressive and communicative. Gives wearer a powerful melodious speech and expands awareness and understanding. Wearer comes out of timid/shy /supressed nature and delves into his own uniqueness and creativity.
Configuration: 11 mukhi rudraksha from java
Bead Size: Approx 15 to 17mm
11 mukhi is ruled by the 11 rudras. According to ancient texts the fruit obtained after performing 1000 Ashavamedh Yagya and 100 Vajpaye Yagya is obtained by wearing this bead. The wearer is blessed with wisdom, right judgment, control over all senses, powerful vocabulary, adventurous life, fearlessness and success. It helps in Meditation and yoga sadhanas. This powerful bead is worn to provide relief from all planets.