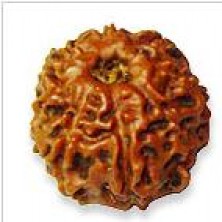 Eight Mukhi (Java)
Eight mukhi Rudraksha represents Lord Ganesha and planet Ketu. Removes obstacles in path and brings success in all undertakings. His opponents are finished, means their minds and intentions are changed to favourable ones. Wearer is blessed with self power, focus, grounding and divine knowledge.
8 mukhi Rudraksha is the second form of reflection of the first son of Lord Shiva, Lord Ganesh and is one who is worshipped prior to other gods. Eight linings present on it makes it a very effective Rudraksha. Its wearer becomes unaffected by miseries – physical, divine or mental. Ganesha rules over planet Ketu, hence wearing this rudraksha removes malefics of planet Ketu. A malefic ketu may cause injuries, accidents, surgery and diseases. Wearing 8 faced rudraksha keeps a check on the malefic effects of the planet Ketu. Ideal for writers and intellectuals.
Represents: Lord Ganesh
Ruling Planet: Ketu
Recommended for: Injuries, accidents, surgery and diseases.
Mantra
Om Ganeshaya Namah
Om Hum Namah
Avg. Size: 12-15mm
Origin:Indonesia
NOTE:
RUDRAKSHA PRICES AND AVAILABILITY ARE SUBJECT TO FLUCTUATIONS. WE WILL LET YOU KNOW IF THERE ARE ANY CHANGES IN PRICE AS SOON AS WE RECEIVE YOUR ORDER.