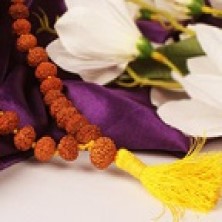 Durga Shakti Mala
For: For energy, power, protection and abundance.
Configuration: 9 mukhi rudraksha from java.
No. of beads: 108+1
Design: Strung in traditional style with knots.
9 mukhi Rudraksha represents Goddess Durga (Shakti). She is Manifestation of Kali (protection), Saraswati ( Knowledge ) and Mahalaxmi ( Wealth). Wearer is blessed with energy, powers, Dynamism, fearlessness, knowledge and abundance. Heals cases of depression, Alzheimer's disease, multiple scelerosis, parkinson's disease, paralysis, Epilepsy, depression, Schizophrenia, migraines, headaches, diabetes, Coma, Speech difficulties and Blood diseases.