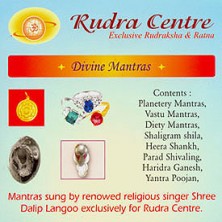 Divine Mantras
An exclusive collection of all Deity, Planetary, Vastu mantras & mantras for shaligram, heera shankh, parad shivaling & yantra worship. Sung by renowned singer Shree Dalip Langoo. This cd contains mantras of:
Agni
Baglamukhi Yantra
Batuk Bhairav Yantra
Bhairavi Yantra
Bhoomi Yantra
Bhoot Pret Badha Nivaran Yantra
Bhuvneshvari Yantra
Brahma
Chinmastika Devi Yantra
Dhan Akarshan yantra
Dhanvantri Yantra
Dhoomavati Yantra
Dikdosh Nashak Yantra
Dikdosh Nashak Yantra
Durga Bisa Yantra
Durga Saptasati Yantra
Durga Yantra
Ganesh Laxmi Business Yantra
Ganesh Yantra
Gayatri Yantra
Grih Dosh Vaastu-Chakra Yantra
Hanumant Pujan Yantra
Haridra Ganesh
Haridra Ganesh Yantra
Heera Shankh
Indrakshi Yantra
Kailash Dhanraksha Yantra
Kamakhyadevi Yantra
Kamdev Yantra
Kamla Devi Yantra
Kanak Dhara Laxmi Yantra
Kartikeya
Kartikeya (Murugan)
Karya Sidhi Yantra
Katyayani Mahasiddhi Yantra
Katyayani/lagna yog Yantra
Krishna Yantra
Kuber yantra
Kuber Yantra
Lagna Yog Yantra
Lagna Yog Yantra
Lucky bracelet
Mahakali Yantra
Mahakali Yantra
Mahalakshmi Yantra
Mahalaxmi Yantra
Mahamritunjaya Yantra
Mahasudarshan Yantra
Mangal Yantra
Manokamna Prapti Yantra
Manokamna Siddhi Laxmi Yantra
Matangi Yantra
Matysa Yantra
Narasimha Yantra
Parad Shivling
Parvati
Santan Gopal Yantra
Sarva Manokamna Prapti yantra
Shaligram Shila
Shiv Panchakshri yantra
Shiva Yantra
Shree Adishakti Ambaji Bisa Yantra
Shree Ganesh Yantra
Shree Kaalsarp Yantra
Shree Karya Siddhi Yantra
Shree Laxminarayan Yantra
Shree Panchanan Ganesh Yantra
Shree Ramraksha Yantra
Shree Riddhi-Siddhi Ganesh Yantra
Shree Sampoorna Mahalaxmi Yantra
Shree Saraswati Yantra
Shree Siddhi Vinayak Yantra
Shree Yantra
Shubh Labh
Shubh Labh Yantra
Siddh Buddh yantra
Siddh Chandra Yantra
Siddh Guru Yantra
Siddh Ketu Yantra
Siddh Rahu Yantra
Siddh Sainath Yantra
Siddh Shani Yantra
Siddh Shukra Yantra
Siddh Surya Yantra
Siddhidayak Laxmi Bisa Yantra
Swarnakarshan Bhairav Yantra
Tara Yantra
Tripur Bhairavi Yantra
Tripur Sundri Yantra
Vaastu Dosh Nashak Yantra
Vahan Durghatna Yantra
Vaibhav Lakshmi yantra
Vashikaran Yantra
Vidya Prapti Yantra
Vishnu yantra
Vishnu Pujan Yantra
Vivaaha Sthapana Yantra and
Yantra worship mantras

NOTE:

RUDRAKSHA PRICES AND AVAILABILITY ARE SUBJECT TO FLUCTUATIONS. WE WILL LET YOU KNOW IF THERE ARE ANY CHANGES IN PRICE AS SOON AS WE RECEIVE YOUR ORDER.