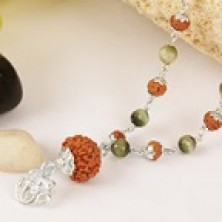 8 mukhi with Cats Eye mala in silver caps
Purpose:
For removal of obstacles and achieving success in all undertakings.
For intellect and gaining of higher levels of knowledge, riddhies and siddhies.
Also focus and grounding and luck in all endeavours.
For chanting mantras of planet Ketu and Lord Ganesh.
Rare mala of uniform 8 mukhi Java and cats eye beads with Large 8 mukhi Java of 13mmas sumeru.
Ruling deity: Ganesh
Ruling planet: Ketu
Mantras:
Beej Mantra: Om Hum Namah
Planet Mantra: Om Hreem Ketve Namaha
Deity Mantra: Om Ganeshaya Namah
Mala strung according to Rudraksha Ratna Science Therapy
No. of Beads: 36+1 (Rudraksha) x 36 (Cats Eye)
Bead Size:6mm (Rudraksha) x 6mm (Cats Eye)
Length: 29 inches approx
Weight of Silver: 10 gms