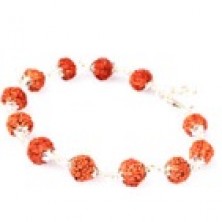 7 mukhi bracelet in silver caps
For: Wealth and career success.
Seven mukhi Rudraksha represents Goddess Mahalaxmi and Padma purana mentions it being ruled by Kamadeva, the God of love. Good health and wealth is blessed to him who wears Seven Faced Rudraksha. It should be worn by those who are suffering from miseries pertaining to body, finance and mental set-up. By wearing Seven Faced Rudraksha the person progresses steadily in life with name and fame and abundance.
Ruling deity: Mahalaxmi
Mantras:
Beej Mantra: Om Hum Namah
Deity Mantra: Om Mahalakshmi Namah