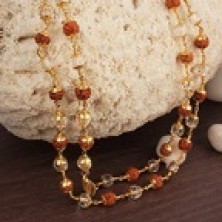 6mm Rudraksha and Crystal Beads in Pure Gold - Design I
Mala made of small sized five mukhi Rudraksha beads and diamond cut Crystal beads strung in pure gold with plain caps.
Five mukhi rudraksha is ruled by planet of lessons - Jupiter. Gives wisdom, learning and knowledge. This is popular among devotees of Lord Shiva and commonly worn for health, worship and peace of mind. Crystal is a natural gemstone and has power to retain the energy of mantra chanting.
Crystals harmonise the aura around us and removes the negative energy, gives peace of mind and coolness of body. It is beneficial for gaining knowledge of the past, present and future when used for concentration.
Origin: Java
Bead Size: 6mm each