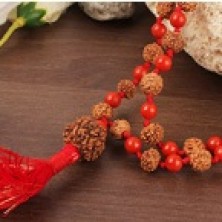 6 mukhi with Coral mala
For: Willpower, grounding, focus.
• Increased connection with mother earth. Wearer gets luck and assets of properties and vehicles.
• For chanting mantras for planet Mangal (Mars).
Red Coral gives the wearer qualities such as bravery and courage to face any situation. It can be worn for a blissful married life.
Description: Rare mala of uniform 6 mukhi Java with coral beads.
Ruling deity: Kartikeya
Ruling planet: Mars
Mantras:
Beej Mantra: Om Hreem Hum Namah
Planet Mantra: Om Angarakaya Namaha
Deity Mantra: Om Sri Saravanabhavaya Namah