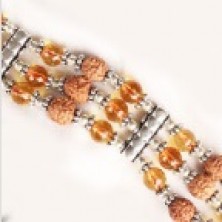 4 mukhi Java Triple Turn Bracelet with Citrine beads
This effective 4 Mukhi Rudraksha bead strung in triple turn design and stretch elastic with Citrine beads in silver chakri powers the imagination and gives spiritual faith. The uniform 4 mukhi Java beads are approx. 8 mm in size. The bracelet is beautifully strung with silver spacers.
4 Mukhi Rudraksha aids in attaining knowledge and dispel the ignorance within. It represents knowledge and creativity and removes the intellectual dullness and helps attain spiritual faith. Wearing a 4 mukhi also helps overcome mental disease, paralysis and nasal disease.
The citrine beads in this bracelet strengthen the inner light and triggers inspiration and imagination. It also helps in attracting love and happiness.
Origin: Java
Bead Size: 8mm (Rudraksha) X 7mm (Citrine)
No. of beads: 9 (Rudraksha) X 18 (Citrine)
Length: 7 inches
Weight of silver: 6.5 gms