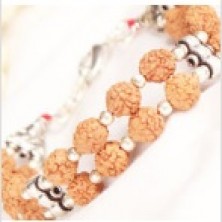 4 mukhi Java Double Turn Bracelet in silver balls
This subtle 4 Mukhi Rudraksha bead strung in double turn design and stretch elastic with silver balls helps attain peace of mind. The bracelet has uniform 4 mukhi Java beads are approx. 8 mm in size separated with silver spacers.
4 Mukhi Rudraksha aids in attaining knowledge and dispel the ignorance within. It represents knowledge and creativity and removes the intellectual dullness and helps attain spiritual faith. Wearing a 4 mukhi also helps overcome mental disease, paralysis and nasal disease.
Origin: Java
Bead Size: 8mm
No. of beads: 20
Length: 7 inches
Weight of silver: 4.5 gms