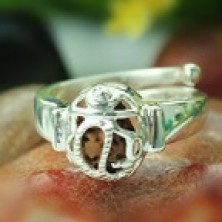 3 Mukhi Rudra Ring - Women
This elegant ring in pure silver designed with a 3-Mukhi Rudraksha is a perfect talisman with bhasma and metal of planet Sun enclosed in tubes, and beeja mantra of planet Sun inscribed on its sides.
3 mukhi Rudraksha releases a person from the bondages of his/her past Karmas. Bestows self-esteem and energy to face any situation. This Rudraksha is ruled by planet Sun also called Surya Graha. It is beneficial for those having Surya Dosha in their horoscope. It is ruled by Lord Agni.
Rudraksha beads may be worn as necklaces, bracelets, rings or lockets. This 3-Mukhi Sun planetary ring is convenient to wear and bestows you the grace and aura of Sun. This ring is designed to be worn on ring finger. Made in pure silver in an elegant design suitable for female.
Origin: Java
Ruling God: Lord Agni
Ruling planet: Sun
Benefits: Clears past Karma, for self-esteem and power
Weight - Approx. 10 to 12 gms