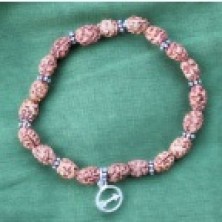 2 mukhi moon bracelet - Java
Purpose:
2 mukhi Rudraksha heals the Soul and connect the wearer to his soul destiny. Bestows self confidence, emotional stability, inner bliss and enhances relationships. Gives unity in form speech and meaning. Brings the wearer at peace with himself and gives control of thoughts and actions.
Maybe worn or used for chanting mantras of planet Moon.
Description - Bracelet of uniform 2 mukhi beads of size approx 9mm
Ruling deity: Shiva
Ruling planet: Moon
Mantras:
Beej Mantra: Om Namah
Planet Mantra: Om Som Somaaya Namaha
Deity Mantra: Om Namah Shivaye
Bracelet strung according to Rudraksha Ratna Science Therapy