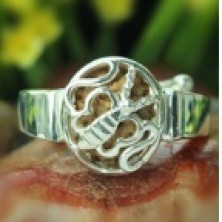 10 mukhi rudra rings - Women
This elegant ring in pure silver designed with a 10-Mukhi Rudraksha is a perfect talisman with bhasma and metal of all planets enclosed in tubes and beeja mantra of these planets inscribed on its sides.
10 mukhi is believed to be a protection shield. It protects the wearer from negative energies and the malefics of all the nine planets. This Rudraksha is ruled by all the nine planets or the nava grahas and ruled by Lord Narayan Krishna.
Rudraksha beads may be worn as necklaces, bracelets, rings or lockets. This 10-Mukhi ring is convenient to wear and bestows you the grace of Lord Narayan Krishna. This ring is designed to be worn on little finger.
Origin: Java
Ruling Goddess: Lord Narayan Krishna
Ruling Planet: All Planets
Benefits: Energy of creation, Perseverance, Protection from all kinds of problems and Success in legal issues