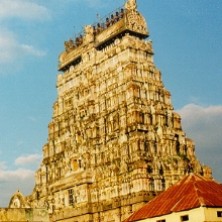 Nataraja Temple
Chidambaram
Presiding Deity:
Nataraj
Chidambaram is hallowed by the aura of the famous shrine dedicated to Lord Shiva as Nataraja, the Cosmic Dancer. Here the Lord danced while blessing saints Patanjali and Vyagrapada, who were doing penance in the Thillai forests. The Cosmic Dance is a symbolic representation of the five-fold activities of God - Creation, Preservation, Destruction, Veiling (Maya) and Blessing. Sri Nataraja's Thandavams include Ananda Thandavam, Urdhwa Thandavam, Bhujanagatrasa Thandavam and Ajabha Thandavam. To the left is the Chidambara Rahasyam or the abode of akasha Lingam. Only a Prabha or circular arch and a Vel (spear) with a golden Bilva mala are worshipped. This is one of the Pancha Bhutha Lingams representing Akasha or Ether. This shrine remains curtained. The five silver-plated steps leading to the shrine represent the mystic five letters of Namasivaya. The shirne of Govindaraja Perumal is close to the Chit Sabha. Lord Subramanya is in another shrine. The temple has all five Sabhas of Lord Shiva - Chit Sabha, Kanaga Sabha, Nritya Sabha, Deva Sabha and Raja Sabha. The famous Raja Sabha is in the Thousand-pillared Hall. Saivite poet Sekkizhar first recited his Periya Puranam in this hall. The Nritya Sabha shows the Urdhwa Thandavam of the Lord. It is a porch of 56 pillars, delicately carved with dancing figures. This court represents a heavenly chariot carved out of stone. The Deva Sabha was used by the ten administrators to hold meetings and festivals. The Raja Sabha was used by Chola and Pandya kings to hold victory celebrations.
Saranam.com only facilitates rituals at temples for those who are unable to physically be present at the temple for various reasons.
1.We are not an agent/representative/official website of any temple and perform these services through our own network of representatives.
2.We are not a temple. We are not a religious movement. We get no money from particular religious institutions or leaders. We are not pushing a particular spiritual agenda.
3.All pujas or other rituals offered through our website do not involve any kind of animal sacrifice.
4.The charges for services include charges collected at the temple, cost of purchasing offerings, conveyance and various other charges towards fulfillment of the order and are subject to change from time to time without notice.
IMPORTANT NOTICE
The Commissioner, Hindu Religious and Charitable Endowments (HR&CE), Government of Tamilnadu, has raised certain objections regarding private entities offering spiritual services at temples under the control of the HR&CE. Hence we have temporarily suspended services at this temple through our website till the issue is resolved. Kindly accept our apologies for the inconvenience caused.
For more information please contact helpdesk@saranam.com.