EMERGENCY RELIEF WING
Quick concern for critical conditions

The poor lose their hard earned money and their belongings during natural calamities fire and flood.Medical help,physical help and counselling with affection are of paramount importance in such situations. The Ashram's well trained sevak battalion rushes to the affected area within a short span of time with immediate requirements.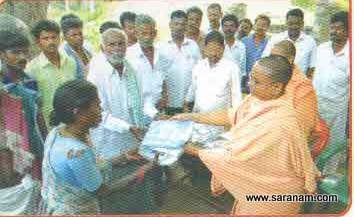 As a prelliminary relief, the Ashram alleviates the hunger of affected poor by distributing cooked food.
Clothes, bed sheets, food materials and utensils are distributed free of cost.
The Ashramn arranges for a team of doctors and offers free medication and first aid.
Kindly send your contributions favoring

'SRI SARADA ASHRAM, ULUNDURPET'in the form of Cheque/DD/MO to

SRI SARADA ASHRAM
New Edaikal, Trichy Trunk Road
Ulundurpet 606 107
Villupuram District, Tamilnadu
Ph:04149-220432
Mob:9487481452, 9487475432
Email: ashram@srisaradaashram.org
Related Topics
SRI SARADA FREE HOME FOR POOR AGED MOTHERS
SRI SARADA FREE COMPUTER TRAINING CENTRE
FREE NIGHT SCHOOL FOR POOR BOYS