SRI SARADA ASHRAM-ULUNDURPET
Our sacred nation exists in the world to show the power of magnificient spiritual strength which is the real foundation for all other developments. Today this land may seem to be devoid of culture and tradition;it may appear that virtuous persons face hardship and the vice enjoy victory;we may also feel that we are engulfed by immeasyrable falsehood and unruly incidents.
In this crucial situation, the question can easily arise...Who will work for social welfare and cultural revival? The answer is ...the great spiritual heritage of this holy nation will never perish!...Indomitable spiritual force will rise and bring back the same glory!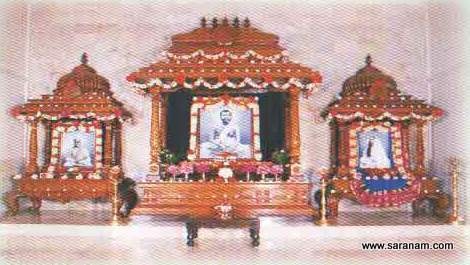 Whenever the grace of God is showered, blessings fall upon parched land and rejuvanates the seeds of rich spiritual tradition tradition that lies dormant and makes them prosper. One such seed of dharma with 'potential divinity' sprouted in the form of "SRI SARADA ASHRAM" in 1988 and has grown as an illustrious heavenly tree, sheltering and giving warm love through real service to thousands of people in and around Villupuram district across Tamilnadu in South India.
Inspired by the ideals of Bhagavan Sri Ramakarishna, Holy Mother Sri Sarada Devi and Swami Vivekananda, Srimath Swami Ananandaji Maharaj, took initiation from His Holiness Srimath Swami Bhuteshanandaji Maharaj, the 12th President of Sri Ramakrishna Math and Mission, Kolkatta.He took up the great monastic life and through his complete renunciation, bound
less love, total surrender and supreme penance has nouorished this unique organisation.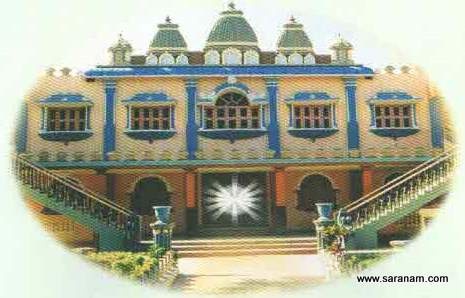 The ashram is located 200Kms south of Chennai, 120kms north of Trichy and 130kms east of Salem in a natural and beautiful environment, providing peace and solace to those who approach for Divine blessings. Under the loving and spirited leadership of Yatiswari Ramakrishnapriya Amba, the President of Sarada Ashram, a team of 45 well eductaed Sanyasin sisters have dedicated their whole life ,leaving their kith and kin by undertaking sacred penance and sacrificed their all, devoting their whole and soul for doing service to mankind through selfless and committed monastic life.By absolute and incessant efforts the dedicated sisters are doing excellent work in the areas of education,health, agriculture, culture and socio economic upliftment for the rural poor and downtrodden. Vivekananda Sevapratishtan is the service wing which functions tirelessly with a noble mission and foresight for the upliftment of masses in villages.
Kindly send your contributions favoring
'SRI SARADA ASHRAM, ULUNDURPET'
in the form of Cheque/DD/MO to

SRI SARADA ASHRAM
New Edaikal, Trichy Trunk Road
Ulundurpet 606 107
Villupuram District, Tamilnadu
Ph:04149-220432
Mob:9487481452, 9487475432
Email: ashram@srisaradaashram.org
Related Topics
SRI SARADA FREE HOME FOR POOR AGED MOTHERS
SRI SARADA FREE COMPUTER TRAINING CENTRE

EMERGENCY RELIEF WING
FREE NIGHT SCHOOL FOR POOR BOYS