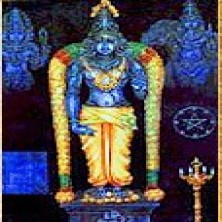 Laksharchana at Guru Sthalam
Alangudi
Presiding Deity:
Guru
Jupiter transits to Simha Rasi (Leo) from Kanya Rasi on 18th July 2016.
The laksharchana is recommended for those in the following Rasi i.e. Mesha, Mithuna, Kataka, Kanni, Thula, Dhanus and Kumbha.
It is beneficial to perform a Laksharchana at the Guru Sthalam.The Laksharchana is being performed at the temple during the following days
21 July 2016 To 28 July 2016
04 August 2016 To 11 August 2016
The Laksharchana will be performed on one of the above days from 9AM to 12 Noon and again from 4.30Pm to 8PM.
Kindly note that the charges include the fee to be paid at the temple and our operational expenses for completing your request.