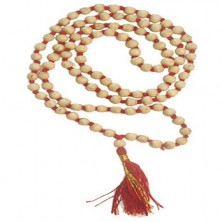 Tulsi mala
Tulsi means "the incomparable one". Tulsi is Divinity. It has very distinguished appearance, aroma and flavor.
Purpose-
• It maintains ritual purity and wards off evil.
• Tulsi is regarded as the 4th incarnation of supreme Goddess.
• Tulsi is regarded as best for worshipping lord Vishnu, Ram, and Krishna.
• According to Ayurveda, it is very useful for curing throat diseases.
• It is also used for the purification of the body.
• It gives peace of mind and reduces stress.
Design- Made with high quality, round and white selected beads in thread with knots. Available in orange and red threads.
No. of Beads: 108+1

Product Price: RS: 400 Tulsi mala - 7 mm Length - 30 inches

Product Price: RS: 575 Tulsi mala - 8 mm Length - 32 inches
NOTE:
RUDRAKSHA PRICES AND AVAILABILITY ARE SUBJECT TO FLUCTUATIONS. WE WILL LET YOU KNOW IF THERE ARE ANY CHANGES IN PRICE AS SOON AS WE RECEIVE YOUR ORDER.