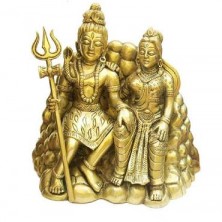 Shiva Parvati
Parvati is the better half of Lord Shiva, the most innocent and the fiercest god in Hindu tradition. The couple together symbolizes both power of renunciation and asceticism and the blessings of marital felicity. There are legends behind the marriage of lord Shiva and Parvati, being a devotee of Shiv-Shambhu. Parvati did a lot of tap in order to get Shiva as her soul mate. Parvati's dedication was really true which made Lord Shiva to marry her. Parvati is believed to be one of the many forms of "Shakti". Durga and Kali are the two fierce but very powerful forms of Parvati. Fertility, marital felicity, devotion to the spouse, asceticism and power are different virtues symbolized by Parvati. These virtues are highly valued by the Hindu tradition. As per a famous literary work on the goddess, Saundarya Lahiri, Parvati is the source of all the power in this universe and Lord Shiva gets all his powers from her.
Design - Made in heavy shining brass with intricate features , this statue depicts Shiva sitting with His Divine consort on the mountains , holding Trishul in hand , and a serpent around His neck with one hand lovingly on Her lap.

Height - 7 inches

Base width - 7.5 inches

Weight - 3.25 kgs.

Product Price: RS: 5,485
NOTE:
RUDRAKSHA PRICES AND AVAILABILITY ARE SUBJECT TO FLUCTUATIONS. WE WILL LET YOU KNOW IF THERE ARE ANY CHANGES IN PRICE AS SOON AS WE RECEIVE YOUR ORDER.