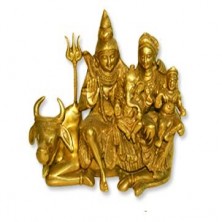 Shiv Parivar with Childs - Large
Shiva is "The Auspicious One". He is the creator as well as the destroyer. He creates goodness and destroys evil. Shiva is the greatest of renouncers as well as the ideal lover. His Family Shiva Parivar with Parvati, Ganesha and kartikeya marks the symbol of prosperity, harmony and an ever happy family.
This idol of shiv parivar sitted on Nandi is a magnificent divine family. Parvati looks radiant besides Lord shiva, and Lord Ganesh and kartikeya seated in the lap of each respectively .
Benefits of worshipping Shiv Parivar:
• Regular worship of the Shiva Parivar yields overall prosperity in a family.
• It keeps the family united.
• Gives the divine blessings of these 3 deities together.
• It is also an ideal gift for newlywed couples & for those moving in new houses.
Design - Made in heavy shining brass.
Height of set - 8 inches.
Base - 8.5"(L) x 4.5" (W).
Weight - 3.815 kgs.
Product Price: RS: 8,025
NOTE:
RUDRAKSHA PRICES AND AVAILABILITY ARE SUBJECT TO FLUCTUATIONS. WE WILL LET YOU KNOW IF THERE ARE ANY CHANGES IN PRICE AS SOON AS WE RECEIVE YOUR ORDER.