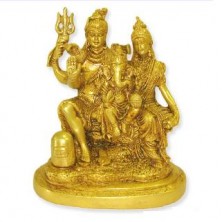 Shiv Parivar Ganesh
The Shiva Parivar consisting of Shiva, Parvati & Ganesha marks the symbol of prosperity, harmony and an ever happy family.
This idol of shiv parivar with Lingam is a magnificent divine family. Parvati looks radiant in a Sari besides Lord shiva, baby Ganesha seated in the lap of His father.
Benefits of worshipping Shiv Parivar:
• Regular worship of the Shiva Parivar yields overall prosperity in a family.
• It keeps the family united.
• Gives the divine blessings of these 3 deities together.
• It is also an ideal gift for newlywed couples & for those moving in new houses.
Design - Made in heavy shining brass.
Height - 6 inches.
Base - 5"(L) x 3" (W).
Weight - 1.25 kgs.
Product Price: RS: 3,000
NOTE:
RUDRAKSHA PRICES AND AVAILABILITY ARE SUBJECT TO FLUCTUATIONS. WE WILL LET YOU KNOW IF THERE ARE ANY CHANGES IN PRICE AS SOON AS WE RECEIVE YOUR ORDER.