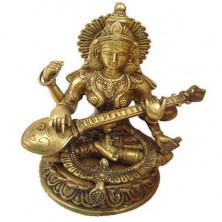 Saraswati Statue
Goddess Saraswati is regard as the giver of wisdom, education, intellect, speech and education. She is also referred as Vak devi (goddess of speech) and Sakala kaladhishtatri (goddess bestowing all the arts).
By worshipping Saraswati, students perform well in the examinations. Worshipping her increases concentration and memory power.

Design - Made in heavy shining brass.

Height - 9.25 inches

Base diameter- 6 inches

Weight - 3.8 Kgs.

Product Price: RS: 7,530
NOTE:
RUDRAKSHA PRICES AND AVAILABILITY ARE SUBJECT TO FLUCTUATIONS. WE WILL LET YOU KNOW IF THERE ARE ANY CHANGES IN PRICE AS SOON AS WE RECEIVE YOUR ORDER.