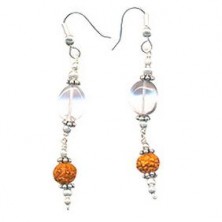 Rudraksha Quartz Earring
Rudraksha is worn for good health, peace of mind & spirituality.

Crystals harmonise the aura around us and removes the negative energy, and gives peace of mind and coolness of body.

Earrings made of Rudraksha & Quartz gems and silver accessories.

Product Price : Rs.205.
NOTE:
RUDRAKSHA PRICES AND AVAILABILITY ARE SUBJECT TO FLUCTUATIONS. WE WILL LET YOU KNOW IF THERE ARE ANY CHANGES IN PRICE AS SOON AS WE RECEIVE YOUR ORDER.