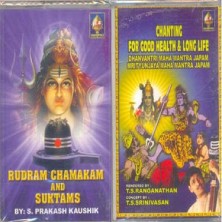 Rudra Suktams & Daily Chants Cassettes
A set of two cassettes containing:

Rudram Chamakam and Suktams which contains Laghunyasam, Rudram, Chamakam, Purusha Suktam, Narayana Suktam, Sri Suktam, Durga Suktam, Mantra Pushpam.

Chanting for Good Health & Long Life which contains Dhanvantri Maha Mantra Japam, Mrityunjaya Maha Mantra Japam.
NOTE:
RUDRAKSHA PRICES AND AVAILABILITY ARE SUBJECT TO FLUCTUATIONS. WE WILL LET YOU KNOW IF THERE ARE ANY CHANGES IN PRICE AS SOON AS WE RECEIVE YOUR ORDER.