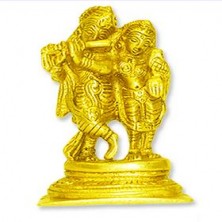 Radhe Krishna in Brass
The lovely pair of Radhe Krishna in exquisite brass.
Radha symbolizes the individual soul that is awakened to the love of God and is absorbed in such love. The sound of Krishna's flute represents the call of the divine for the individual souls.
Place Idol facing West direction.
Design: Made in heavy shining brass.
Height: 3.4 inches
Base Dimension: 2.1" (L) X 1.3" (W)
Weight:240 gm.
Product Price: RS: 750
NOTE:
RUDRAKSHA PRICES AND AVAILABILITY ARE SUBJECT TO FLUCTUATIONS. WE WILL LET YOU KNOW IF THERE ARE ANY CHANGES IN PRICE AS SOON AS WE RECEIVE YOUR ORDER.