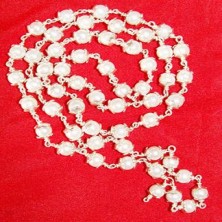 Pearl mala in silver
Made of glistening high quality hand selected round and lustrous cultured pearls.
Design: Made in pure silver with caps .

Pearl strengthens mental faculties, calms emotions and increases peace of mind. It also provides grace and beauty to the wearer .
Purpose-

• Pearl pacifies passions and mental inconsistency and strengthens the heart.

• It cures disease pertaining to indigestion, tiredness, and physical weakness.

• Attracts wealth and money, and symbolizes prosperity and good luck.

• It is often given as a present in order to wish good luck to a friend.

• It brings a soft, healing energy during meditation.

• The pearl is also said to improve self-esteem.
Bead size: 6 mm

Length: 26 inches

No. of beads: 54+1

Product Price: RS: 3,900
NOTE:
RUDRAKSHA PRICES AND AVAILABILITY ARE SUBJECT TO FLUCTUATIONS. WE WILL LET YOU KNOW IF THERE ARE ANY CHANGES IN PRICE AS SOON AS WE RECEIVE YOUR ORDER.