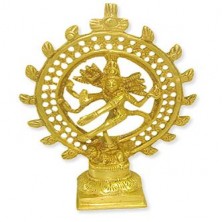 Natraj
Shiva, the Hindu god of destruction is also known as Nataraja, the Lord of Dancers. Nataraja dances with his right foot supported by a crouching figure and his left foot elegantly raised. The cobra around Nataraja's waist is kundalini shakti. The crescent moon and a skull are on his crest. The multiple arms represent the four cardinal directions. Each hand either holds an object or makes a specific mudra. The goddess of the Ganges is shown nesting in Shiva's dreadlocks. Shiva dances on the body of a dwarf apasmara-purusha (the man of forgetfulness) who embodies indifference, ignorance and laziness. He dances within an arch of flames. This dance is called the Dance of Bliss. The ring of fire and light, identifies the field of the dance with the entire universe.
Design : Made in heavy shinning brass.
Height : 8 inches
Base : 3" (L) x 2" (W)
Weight : 1 kg
Product Price: Rs: 5,000
NOTE:
RUDRAKSHA PRICES AND AVAILABILITY ARE SUBJECT TO FLUCTUATIONS. WE WILL LET YOU KNOW IF THERE ARE ANY CHANGES IN PRICE AS SOON AS WE RECEIVE YOUR ORDER.