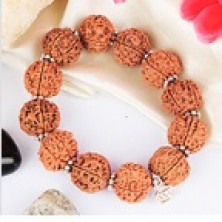 Mangal Bracelet
Purpose:
Enhancement of wisdom, learning, knowledge and artistic capabilities.
Enhancement of will power, focus and grounding.
For stability in life ( career as well as personal life )To negate malefic effects of planet Mangal (Mars).
Wearer gets luck and assets of properties and vehicles.
Design: Made of large 6 mukhi from Nepal.
Bead size: Approx 18 mm
Ruling deity: Kartikeya
Ruling planet: Mars
Mantras:
Beej Mantra: Om Hreem Hum Namah
Planet Mantra: Om Angarakaya Namaha
Deity Mantra: Om Sri Saravanabhavaya Namah
Wearing guideline: To be worn on Right hand for best results.
Bracelet strung according to Rudraksha Ratna Science Therapy