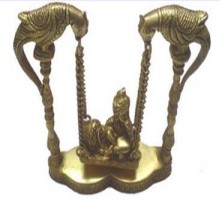 Krishna on swing
Krishna is the Supreme Personality of Godhead. Krishna means the all-attractive person. In this statue the beautiful Krishna is mounted on the swing eating Makhan.
Design - Made in heavy shining brass.
Height - 8 inches
Base - 7" (B) x 1.75"(L)
Weight - 1.5 Kgs.
Product Price: RS: 2,775
NOTE:
RUDRAKSHA PRICES AND AVAILABILITY ARE SUBJECT TO FLUCTUATIONS. WE WILL LET YOU KNOW IF THERE ARE ANY CHANGES IN PRICE AS SOON AS WE RECEIVE YOUR ORDER.