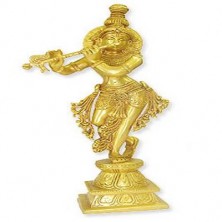 Krishna Leela
One of the most widely revered and most popular of all divinities Krishna is worshipped as the eighth incarnation (avatar) of Vishnu. Krishna became the focus of a large number of devotional cults, which over the centuries have produced a wealth of religious poetry, music, painting and sculpture. His birth was announced by a star and angelic voices. It is said that Krishna returns at the end of each age to save the righteous, destroy sin, and establish goodness and holiness. He Rules over Erotic delights, sexual pleasures, love, music, savior from sins.
In this beautiful statue, Krishna stands on a pedestal, deeply involved in playing flute and enchanting the world.
Design : Made in heavy shinning brass.
Height : 11 inches
Base : 3" (L) x 2.5" (W)
Weight : 2 kg
Product Price: RS: 3,760
NOTE:
RUDRAKSHA PRICES AND AVAILABILITY ARE SUBJECT TO FLUCTUATIONS. WE WILL LET YOU KNOW IF THERE ARE ANY CHANGES IN PRICE AS SOON AS WE RECEIVE YOUR ORDER.