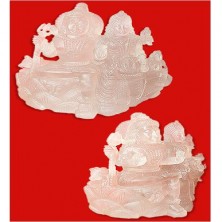 Heavenly Shiva Parivar
This magnificent Idol of Shiva Parivar consisting of Shiva, Parvati, Ganesha & Kartikeya is made in Pure quartz single piece gemstones. This auspicious Idol marks the symbol of prosperity, harmony and a ever happy family.
Benefits of worshipping Shiva Parivar:
• Regular worship yields overall prosperity in a family.
• Keeps the family united with harmony and bliss .• Gives the divine blessings of these 4 deities together.
• It is also an ideal gift for newly wed couples & for those moving in new houses.
Quartz is a natural gemstone and has power to retain the energy of mantra chanting. Deity idols are most popularly made using Quartz. Crystals harmonise the aura around us and removes the negative energy.
Design - Made in 100% natural quartz crystal gemstone .
Height - 7 inches
Base - 6.5 inches
Weight - 2.75 kgs.
Product Price: Rs: 115,165
NOTE:
RUDRAKSHA PRICES AND AVAILABILITY ARE SUBJECT TO FLUCTUATIONS. WE WILL LET YOU KNOW IF THERE ARE ANY CHANGES IN PRICE AS SOON AS WE RECEIVE YOUR ORDER.