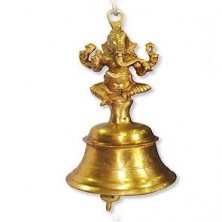 Hanging Ganesh Bell
The son of Shiva and Parvati, Ganesha has an elephantine countenance with a curved trunk and big ears, and a huge pot-bellied body. He is the Lord of success and destroyer of evils and obstacles. He is also worshipped as the god of education, knowledge, wisdom and wealth.
Ganesh rules the hearts and minds of Hindus like other God. Ganapati or Lord Ganesha is associated with auspicious beginnings and good fortune. Considered a remover of obstacles. His presence can be found on all Hindu temples, homes and even most of all places of Hindus. Most devout Hindus start new projects after propitiating Ganesha. So, that the phrase "to do Sri Ganesha", has become almost a synonym for the launch of any activity. What has been revered as a religious symbol in Hindu religion has now transformed into a cultural icon.
This Magnificent hanging Ganesh bell can be hung in the pooja altar.
Design : Made in heavy shinning brass.
Height : 9 " inches , Chain : 24 inches.
Base : 4.5" (L) x 4.5" (W)
Weight : 2 kg
Product Price : Rs : 3,572
NOTE:
RUDRAKSHA PRICES AND AVAILABILITY ARE SUBJECT TO FLUCTUATIONS. WE WILL LET YOU KNOW IF THERE ARE ANY CHANGES IN PRICE AS SOON AS WE RECEIVE YOUR ORDER.