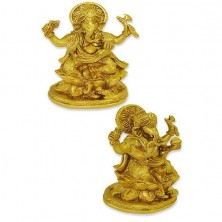 Ganesha on lotus
Ganesha is the first son of Lord Shiva and the Divine Mother Parvati. Ganeshji represents the power of the Supreme Being that removes obstacles and ensures success in human endeavors. Hindus worship Ganesha first before beginning any religious, spiritual or worldly activity. The large head of an elephant symbolizes wisdom, understanding, and a discriminating intellect that one must possess to attain perfection in life.
Mouse symbolizes the ego that can nibble all that is good and noble in a person.
The mouse is also the vehicle of Ganesha, signifying that one must control ego in order for wisdom to shine forth.
Design : Made in heavy shining brass.
Height : 5" inches.
Base : 3.5" (L) x 3" (W) inches.
Weight : 1 kg
Product Price : Rs : 2,100
NOTE:
RUDRAKSHA PRICES AND AVAILABILITY ARE SUBJECT TO FLUCTUATIONS. WE WILL LET YOU KNOW IF THERE ARE ANY CHANGES IN PRICE AS SOON AS WE RECEIVE YOUR ORDER.