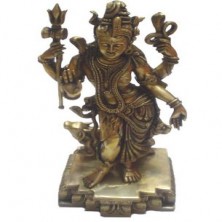 Ardhanareshwar Statue
Shiva fused his inner-self with Parvati so that she could be his constant companion. The worship
of the Shiva - Shakti in this form brings family harmony and the soulmates unite as the celestial
beings unite in fruitful union.
Ardha Nareshwar is the androgynous manifestation of Lord Shiva that unites the antagonistic forces of male and female power and matter and energy to display the two-fold nature of the universe. In this 17.5 inches statue, Shiva wears his characteristic lion-cloth and carries a trident. His female counterpart carries snakes. Their vahans 'Nandi' and 'Lion' can be seen at the back.Design - Made in heavy shining brass.
Height - 17.5 inches
Base - 7.5" (B) x 5"(L)
Weight - 9.3 Kgs.
Product Price : RS: 17,010
NOTE:
RUDRAKSHA PRICES AND AVAILABILITY ARE SUBJECT TO FLUCTUATIONS. WE WILL LET YOU KNOW IF THERE ARE ANY CHANGES IN PRICE AS SOON AS WE RECEIVE YOUR ORDER.